Welcome to Shirat Hayam Boutique hotel.
The most magical place on the Sea of Galilee
On the shores of the Sea of Galilee, in front of the Golan Mountains scenery, Shirat Hayam boutique hotel is situated.
This rare structure is built entirely of basalt blocks and arches typical of numerous Ottoman style constructions.
The hotel was built in 1850 and originally opened with the name "Haifa hotel". Then the hotel was expanded in 1925.
The hotel is among the first hotels to opened in Tiberias, in a time that hotels were called On the names of cities in Palestine.
In 1946, the hotel was hosted a famous Egyptian singer, Umm cul-tum, nicknamed "the star of of the East" and following the her visit – the hotel was renamed "Oriental star"
After the establishment of Israel the famous artist Shimshon Holzman lived in in the structure and he established an art gallery that was available to visitors.
Among the numerous bohemian at the time who visited and stayed at the hotel and even drew it are many famous artists: Nahum Gutman, Reuven Rubin, Amos Yaskil and many more, and obviously, Holtzman himself.
One of the most famous paintings of the place drawn by Gutman called "the promenade in Tiberias".
For several years the hotel was reconstructed from its foundations, the unique rooms and porches were preserved and its now knows today as "Shirat Hayam" boutique hotel
Preserving the nature beauty of the structure, while creating a perfect harmony and well-planned integration between the old and the new, the compound provides an atmosphere of peace and tranquility in front of the scenery of the Sea of Galilee.
Shirat Hayam Boutique Hotel is located on the "Yigal Allon" promenade in the city of Tiberias, on the shores of Lake Kinneret.
The Hotel is located in the heart of an open museum where sculptures are displayed of the best-known sculptures, among them Ilana Goor, Amos Yaskil, Payne and many others, and represents the renewing core of the Tabernacle of culture and Arts.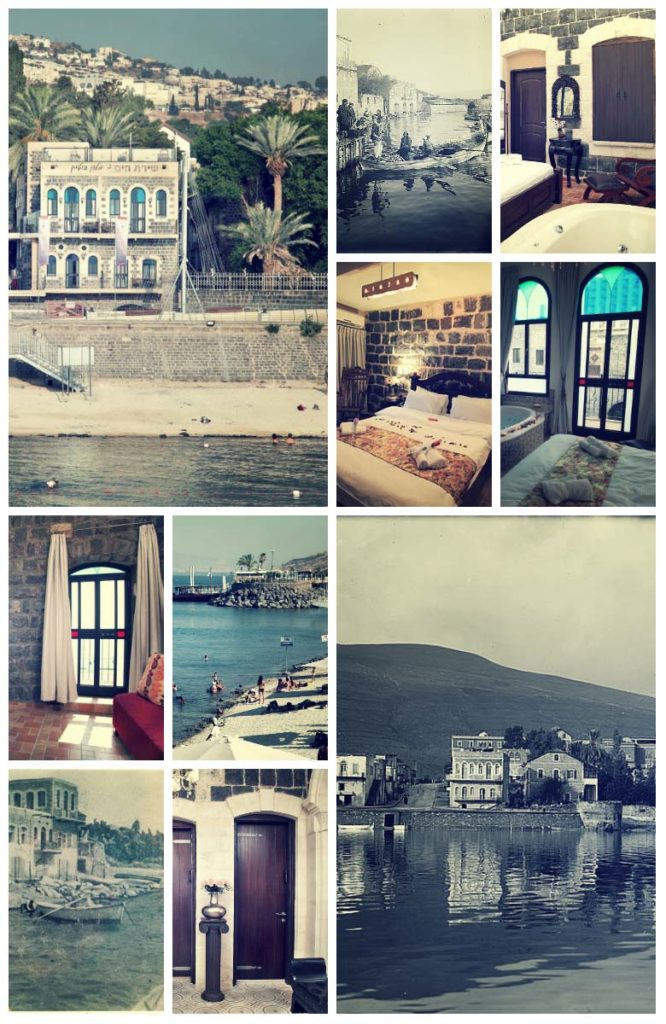 . In the hotel 11 rooms with Antique stone designs – antique rooms, de-lux rooms, balconies suites and premium suite. All the rooms and suites have been designed and furnished in distinctive antique style. Each unit equipped with air conditioning, queen-size beds, closet, LCD monitors with cable TV, Wi-Fi, high-quality pampering towels, personal care products and many other treats.